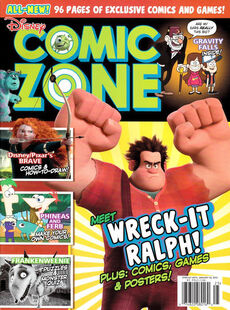 Disney Comic Zone is a single-issue magazine that was published in the winter of 2012. Despite its similarities with the defunct Disney Adventures Comic Zone, it does not appear to be a continuing syndication of the series.
As the title suggests, the magazine includes many comics, games, and posters from various Disney properties, with Wreck-It Ralph (film) being featured the most prominently. There are two Wreck-It Ralph comics in the magazine including: "Wrecking Party" and "The Donut Kart".
"Wrecking Party"
"The Donut Kart"
"The Final Level Boss"
Stats
Publication: Winter 2012
Shelf Display: Until 1/22/2013
Price: 9.99 USD; 9.99 CAD
Pages: 100
Indicia Publisher: Disney Publishing Worldwide
Dimensions: Magazine
Publishing Format: One-Shot
Community content is available under
CC-BY-SA
unless otherwise noted.