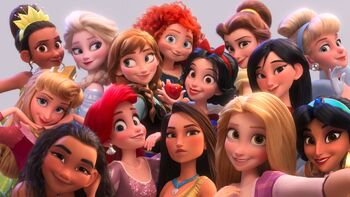 Disney Princesses are netizens who reside at the Oh My Disney website, where the net users who frequent the site come to look at them and take quizzes about them. All the princesses featured in the Disney Princess line are present, as well as Anna, Elsa, and Moana. They appear in Ralph Breaks the Internet, where most of them are voiced by the voice actors who currently voice them in other properties. The exception is Pamela Ribon, who originally voiced temporary tracks for Snow White but was then considered a good enough substitute that the tracks were used in the final film.[1][2]
Background
Watch it, rookie!

This article may contain spoilers. Read at your own discretion!
Vanellope encounters the princesses while running from First Order Stormtroopers looking to apprehend her for spamming Oh My Disney with pop-ups redirecting users to Ralph's videos; she glitches through the door to the dressing room they wait in between shows and quizzes. She narrowly avoids a tussle with the group, befriending them after convincing them she is a princess as well. The princesses take a liking to Vanellope and the clothing she wears, which is more comfortable than the dresses they always wear. Expressing annoyance with the clothing and behaviors expected of them, they decide to "dress down" for a bit as they help Vanellope figure out what she wants to do—they suggest singing as a way for Vanellope to figure out what her "dream" is, though they are surprised at Vanellope's quite literal initial song focusing on her desire to find a steering wheel for her out-of-order game.
The princesses appear once more in the climax, aiding in Ralph's rescue by using powers, objects, and companions that feature in their own properties (e.g. Elsa's ice powers, Merida's bow, or Jaq and Gus from Cinderella) as part of an elaborate group effort to save him from his fall.
Actors
Memorable quotes
"[whispers] She's from the other studio." - Anna, about Merida
"Then I have to assume you made a deal with an underwater sea witch, where she took your voice in exchange for a pair of human legs!? [sighs in relief]" - Ariel
"Of all the thingamabobs in this entire world, I never thought I'd get to wear a real... What's it called again? Oh yeah, shirt! [singing] I once had a dream that I might wear a shirt..." - Ariel
"Yeah... important water. [giggles]" - Ariel
"It was lovely to meet you, Vanellope." - Aurora's goodbye to Vanellope
"Well, there's a lot to unpack here. So this steering wheel you sing of... that's a metaphor?" - Belle
"Who made your gown? I've never seen anything quite like it. (...) Oh, I'd so love to have one of my own." - Cinderella taking a liking to Vanellope's outfit
"Ahh, So THIS is love... All hail Princess Vanellope; the queen of comfy!" - Cinderella
"Magic hands?" - Elsa
"Yeah, and any friend of Vanellope is a friend of ours." - Elsa meeting Ralph
"Maybe a little... but, sometimes your song can't start until you go someplace to reflect." - Fa Mulan
"Do you have daddy issues?" - Jasmine
"We're friends of Vanellope." - Jasmine meeting Ralph
"Ack! Lang may yer lum reek, and may a moose ne'er leave your girnel with a tear drop in his eye! Haste Ye Back, Me Lassie!" - Merida's goodbye to Vanellope
"What kind of a princess are you?" - Pocahontas
"What works for some of us is finding a form of water and staring at it." - Pocahontas
"Do you have magic hair?" - Rapunzel
"And now, for the million dollar question; Do people assume all your problems got solved because a big strong man showed up?" - Rapunzel
"Why don't you give it a try? What is it you really want? Sing about that." - Rapunzel
" [gasps] Look up there! It's a big strong man in need of rescuing!" - Rapunzel
"I do believe our friendship will be the fairest of them all." - Snow White
"Have you ever had true love's kiss?" - Snow White
"Oh yes. I like to stare at a wishing well." - Snow White
"That's what happens when a princess sings about her dreams." - Tiana
"Well, I guess it's back to the gowns, girls." - Tiana
Gallery
References
↑ Johnson, Zach (June 4, 2018). Disney Princesses Meet Vanellope von Schweetz in Wreck It Ralph 2 Trailer. E! News. August 10, 2018.
↑ Bibbiani, William (September 20, 2018). Ralph Breaks The Internet: Inside The Disney Princess Scene Everyone's Talking About IGN. September 20, 2018.
↑ Ribon, Pamela (June 4, 2018). You guys. I finally get to tell you. I'm Snow White.. Twitter. June 4, 2018.
↑ Outlaw, Kofi (July 14, 2017). 'Wreck-It Ralph 2' Bringing Back Original Disney Princess Voice Actresses. Comicbook.com. July 15, 2017.
External links
Community content is available under
CC-BY-SA
unless otherwise noted.