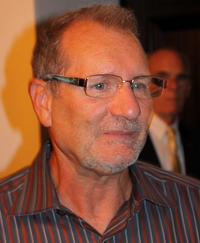 Edward Leonard "Ed" O'Neill is an American actor and comedian. He portrayed Mr. Litwak in Wreck-It Ralph.
Outside of Wreck-It Ralph, he is best known for his role as Al Bundy on the Fox sitcom Married... with Children from 1987 to 1997, and as Jay Pritchett on the ABC comedy series Modern Family since 2009.
Other roles with Disney and Pixar include Grandpa in the Kick Buttowski: Suburban Daredevil episode "Truth or Daredevil" and Hank in Finding Dory and in Disney Infinity: 3.0 Edition. He also played George Denver in the 1989 Touchstone Pictures film Disorganized Crime, Bill Dellinger in Prefontaine, Matt in the 8 Simple Rules episode "Old Flame", and Mayor Thompson in the Handy Manny episode "Great Garage Rescue".