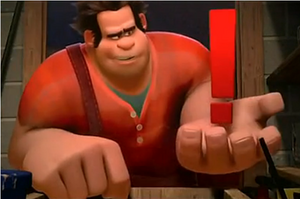 The Exclamation Point is an icon in the Metal Gear video game series that appears over the enemy's head with a distinguished alert sound effect whenever an enemy discovers the player and is about to attack. In the event that the player is discovered and the exclamation point appears, the player is able to become aware of the danger and quickly hide, move away from the area of the alerted guard or to equip a costume or a cardboard box. 
The exclamation point makes a cameo appearance—including its signature sound effect—in Wreck-It Ralph in the Lost & Found box in Tapper's, as Wreck-It Ralph is looking for a Hero's Medal.
Community content is available under
CC-BY-SA
unless otherwise noted.