I've imported a script from the dev wiki (this one, specifically) that will require images to be licensed once it goes live. It's still under review so it isn't live yet but it may be soon. I had initially tested out another script and for that one I needed to add a "no license" option to the license dropdown, and even though the script I went with doesn't require that (because it forces you to choose a license), I've left it on the list for you to select just in case you REALLY don't have any idea what the proper license to pick is.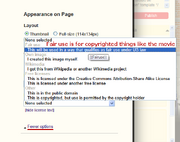 If you need help with file policy or what tags are used when, you can take a look at the file policy or ask in the comments here. Movie screenshots are always fair use.
If this really really backfires, I'll revert the change, but I think it'll end up being positive for the wiki!
Community content is available under
CC-BY-SA
unless otherwise noted.