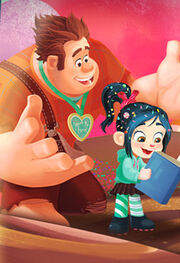 Wreck-It Ralph Wiki is an online collaborative community and encyclopedia dedicated to becoming a high quality resource for all information pertaining to Disney's 52nd animated film, Wreck-It Ralph, and the spin-offs and tie-ins based on it. Being a Wiki, this site is available for everyone to access and contribute to.
Since its creation in June 2012, the Wiki has expanded to include articles on all Wreck-It Ralph related content and media. In addition to pages on the games, locations, characters, and items of the original film, we also have articles on related media such as merchandise, music, awards, and more.
Wreck-It Ralph Wiki uses MediaWiki version 1.33.3.
Since the Wiki's creation on June 10th, 2012, there are 327 articles and 5,487 uploaded files. This information is accurate as of 16:34 on October 29, 2020.
Mission Statement
"To provide and maintain a friendly, professional, and accurate online reference guide towards all things related and pertaining to Disney's Wreck-It Ralph universe."
Get Involved!
Everyone over 13 who has an account is welcome to contribute to Wreck-It Ralph Wiki. If you have questions or comments, please contact one of the Wiki's administrators, who will do their best to help you out.
Before you begin editing, it is important that you read the policies of the Wiki, particularly the Do's and Don't Page. After that, consider introducing yourself on your user page or wall or in a Discussions thread and get to know everyone else who's involved in the community!
Community content is available under
CC-BY-SA
unless otherwise noted.